For Pedro Shatimwene Nghishiwete, getting a technical and vocational education and training (TVET) qualification is not the end but the beginning of a journey towards the realisation of his dreams.
According to Nghishiwete, who is the vice chairperson of the National Federation of Persons with Disabilities in Namibia (NFPDN) in the Oshana Region, now the sky is clear and the sky is simply the limit.
Nghishiwete was one of the 450 young people who on 20 October graduated at Ongwediva from the three northern vocational training centres, namely Valombola VTC, Nakayale VTC, and Eenhana VTC.
He acquired a National Vocational Certificate in Joinery and Cabinet Making Level 3, which is the highest qualification in this course at the level of a vocational training centre.
Even with the daily challenges of physical disability by having to use an artificial leg, Nghishiwete completed his three years long vocational training qualification at the Valombola Vocational Training Centre.
"In the beginning I had a car, but later on I used taxis to travel from Oshakati to Ongwediva every day," Nghishiwete said.
"Although mechanical and electrical engineering were the other choices I had, I decided to take on joinery because it is also good for me."
Now that he is a qualified joinery and cabinet maker his next move is to register at the Namibia University of Science and Technology (Nust) for a diploma.
"I have a chance for late registration in January 2024, in which case the classes will start in March or in September next year," he said.
With this present accomplishment as a testimony of what is possible when there is dedication and commitment, Nghishiwete said confidently that for him or for anybody else there is nothing that is impossible.
"Disability does not mean inability. Whether a person has a disability of any kind, the person must just not sit at home doing nothing. Schools are there, and opportunities are available to everyone. So long as you are fit to do the course, nobody will deny you the right.
"Actually I have one more thing to tackle, which is to get my diploma qualification from Nust as a TVET trainer. After I get it, I can settle down and start with my business although I already have one. Then I want to pass on my knowledge as a trainer, especially for those with disabilities.
"Becoming a TVET trainer is one of my life-long dreams."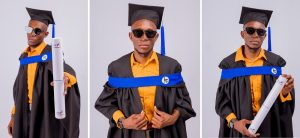 In the photo: Nghishiwete, with his two sisters Hilde Nghishiwete and Eviste Iitana celebrating his achievement.