The seasonal floods, commonly known as Efundja, recently hit the northern regions of Namibia affecting the Ohangwena and Oshana regions severely. The floods caused extensive economic losses, consequently affecting livelihoods, businesses, infrastructures, and basic services.
Upon the call by the Prime Minister Saara Kuugongelwa-Amadhila for stakeholders to come on board and help the Government in assisting the affected communities, the Old Mutual Foundation donated food parcels, toiletries, water purification tablets, and ten 1 000 litres water tanks to the value of N$90 000 to the affected flooded areas in the Ohangwena and Oshana regions.
Speaking at the Oshikango Emergency Centre where the Old Mutual Foundation handed over the donated parcels to Ohangwena Governor Walde Natangwe Ndevashiya, Mignon du Preez, the Group Marketing, Public Affairs and Sustainability Executive, shared that "we need to find a strategic lasting solution to address the challenges posed by the flood situation in the north-central regions.
"However, we as the Old Mutual Foundation believe that in the absence of coping strategies, we as a nation can work together to equip the affected communities as they depend on external relief for the provision of basic needs."
On his part, Ndevashiya expressed his profound appreciation to the Old Mutual Foundation for the gesture to donate relief material to the Ohangwena region.
Oshana Governor Elia Irimari, who spoke at the sponsorship handover at the Ehenye Relocation Centre where the flood victims have migrated to, equally stated that "I would like to extend my words of appreciation to the Old Mutual Foundation for its generous donation, this is indeed a commendable endeavor, and we thank you so dearly for your generosity and utmost care for families affected by the floods."
Ms du Preez also stated that as a responsible and caring business, the Old Mutual Foundation has pledged alliance to the Office of the Prime Minister and the Directorate of Disaster Risk Management in support of aiding the communities affected by the flash floods.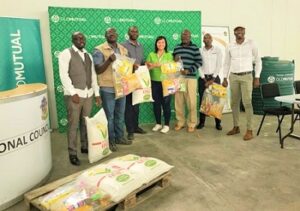 In this photo: Aktofel Amakutuwa, Director of Finance, HR and Administration Ohangwena Regional Council; Hon. Walde Ndevashiya, Ohangwena Regional Governor; Obed Mushaandja, Retail Mass Market Regional Area Manager, Old Mutual; Mignon du Preez, Group Marketing, Public Affairs and Sustainability Executive, Old Mutual; Hon. Johannes Hakanyome, Regional Councillor for Ohangwena Constituency; Jason Fillemon, Retail Mass Market Branch Manager Old Mutual, Ondangwa; Titus Ndokotola, Business Manager, Old Mutual Oshakati.