The youth of Pentecostal Protestant Church (PPC) who are gathered in Oshakati for a youth conference took time out today to go in the community to take the good news to the people of God who might be thirsty for it.
The youth, who are close to 150 divided themselves into four groups, which went door to door in search of the lost sheep of the Lord. Mostly the young believers went in the community of Uupindi settlement just across the road from the PPC church in Oshakati West.
In their outreach they came to homes, at bars and local businesses where, mostly they were welcomed and they took a few minutes to share the good news they had.
The young soldiers of the Lord were in high spirits as they read scriptures, gave sermons and words of encouragement as well as singing songs of praise to those who were hungry for the favour of the Lord.
Many people professed that they knew about the good news of the Lord's coming only that they had backslided and were ready to come to church for the evening service in search of deliverance.
But others asked for a prayer since they were sick of certain chronic sicknesses, which they received and were encouraged to come for the evening service where the power of God was waiting for them to do miracles in their lives.
But others came forward and gave their lives to Jesus and made a decision to start a new journey in search of the source of the everlasting life.
Only several people indicated that they would not welcome the young evangelists since they already belonged to their own churches such as Elcin and Roman Catholic.
After more than two hours in the scorching sun evangelizing to the people, the youth returned to their conference gathering where lunch was ready for them and afternoon teachings, baptisms, Holy Communion and an evening service was going to take place.
The PPC national youth conference taking place over the weekend of 7 to 10 September, 2023, is the first of its kind, and is attended by groups of youth from places such as Luderitz, Havana and Greenwell Matongo in Windhoek, Rundu, Okandjeke in Oshikoto Region, Oshiziya, Onhanadi, Outapi, Ruacana, Opuwo, Calueque, Santa Clara and Ondjiva in southern Angola, and Evululuko and Oshakati West who are the host.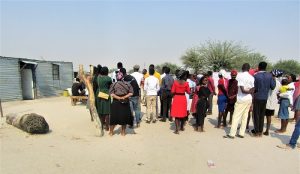 In the photo: The group of PPC youth who took to the south-western side of Uupindi in Oshakati West.