Windhoek was abuzz with excitement on 10 November 2023, as Old Mutual Namibia officially launched its innovative Rewards Programme.
The event witnessed a dynamic gathering of distinguished guests setting the stage for a day of celebration, innovation, and financial empowerment.
Mignon du Preez, the Group Marketing, Public Affairs, and Sustainability Executive stated that, "this is no ordinary programme; it is a path to a world filled with thrilling possibilities and unparalleled rewards.
"Every step Old Mutual Namibia customers take in solidifying their financial knowledge along with increasing the number of products they have with us will be met with tangible rewards. Imagine being rewarded for saving and taking control of your finances and working towards your financial goals. With Old Mutual rewards, it's now possible!"
In an exciting address, Tassius Chigariro, Old Mutual Namibia's Group Chief Executive Officer, spoke with unwavering pride and enthusiasm about the latest addition to Old Mutual's product offerings.
"Today marks a significant milestone in our journey towards making Old Mutual Namibia your first choice for financial success. We're not just talking about innovation; we're talking about being the unwavering cornerstone of your prosperity."
Logan Fransman, the Chief Operating Officer emphasised that "Old Mutual will reward you for making responsible financial decisions to secure your future goals. Whether you are an existing customer of Old Mutual Namibia, or a potential customer, you can now use our easy online tools to help you stay on track and get something back for all your great financial decisions.
"The rate at which you earn points and other discounted benefits is determined by your Old Mutual Rewards tier, and signing up is completely free."
Brett Cameron, Head of Old Mutual Rewards at Old Mutual, highlighted the transformative potential of the Rewards Programme. "We are excited about our expansion into Namibia, this highlights our commitment to nurturing financial literacy and promoting good financial behaviours. Through this innovative platform, we will empower people to take better care of their financial future and make strides in fostering a culture of good money behaviour," said Cameron.
Clement Chinaka, Old Mutual Africa Regions Managing Director, further shared how the launch of Rewards in Namibia showcases leadership in the market, setting a precedent for others to follow.
Chinaka describes this as a symbol of progress and recognition of Namibia's role within the Old Mutual Group's strategic vision. "Old Mutual stands out by translating market insights into practical benefits for clients. Our solutions are more than products—they are roadmaps guiding customers toward financial success.
"Our commitment is not just to address immediate financial challenges but to anticipate and evolve with dynamic customer needs. We empower customers to navigate the future with confidence, fostering enduring relationships built on financial success and empowerment," Chinaka stated.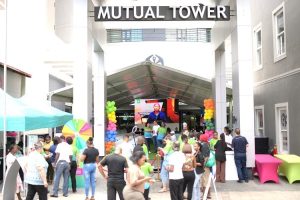 In the photo: At the launch of the Rewards Programme of Old Mutual Namibia.