Ohangwena-born and raised traditional artist Sweety Namibia was on fire at the official opening of the Ongwediva Annual Trade Fair last Sunday.
Sweety Namibia delivered two of her hit songs, 'Pelenge naame omwali' and 'Itavela mee mweno'.
The 'omulikadi wefupa lafeemwengu' was a big thing with the kids as she mingled with them and had fun with the little ones after the official event of the ceremony which was graced by Deputy Minister of Industrialisation and Trade Ms Verna Sinimbo.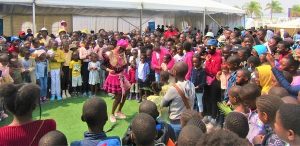 In the photo: Sweety Namibia at her best.