Eluwa Resource School was there at the combined graduation ceremony of the three northern vocational training centres.
Students of Eenhana Vocational Training Centre, Nakayale Vocational Training Centre and Valombola Vocational Training Centre and their parents and well-wishers on 20 October gathered at Ongwediva Trade Fair Centre to receive their qualifications upon completion of their Level 3 studies.
In celebration of their achievements was the Eluwa Resource School's cultural group which provided entertainment for the occasion.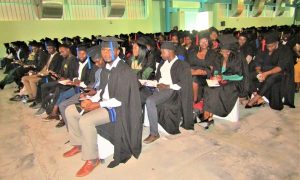 In the main photo: Eluwa Resource School's cultural group doing what they do best.