Namibians from different walks of life were inspired by the recent show of sporting talent in the local football by Eeshoke Chula Chula so much so that thousands of soccer fans turned up at the Independence Stadium on Saturday for the Dr Hage Geingob Cup match between African Stars and Eeshoke Chula Chula.
The match, which Chula Chula won by a solitary goal, brought people from different backgrounds who filled the stadium to capacity for the first time after many years.
While Namibian soccer is known for rivalries along tribal lines, the triumph of Chula Chula over African Stars made some notable people to make calls for unity as Namibian soccer showed to be on the rise from the dust.
"We extend felicitations and congrats to the winner of the Hage Geingob Cup, the rising Eeshoke Chula-Chula. Great display of sportsmanship. To the youth sports must always unite us, the tribal innuendos at our pitches must end. We are one people today, tomorrow and the day after," said Mr McHenry Venaani, the president of PDM and Leader of the Official Opposition.
On his part Dr Hage Geingob, President of Namibia, said: "A brilliant victory! Congratulations Eeshoke Chula Chula FC for lifting the 9th edition of Hage Geingob Cup against African Stars! All the fans who showed up in tens of thousands to be with First Lady of Namibia and I, thank you! An amazing day showcasing the uniting power of sports."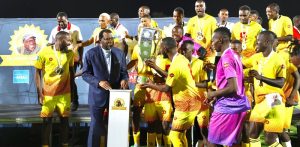 In the photo: Eeshoke Chula Chula lifting the Dr Hage Geingob Cup.